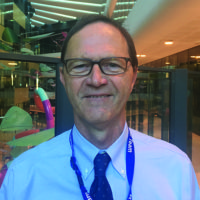 Professor Yves Heloury has now retired.
Yves Heloury is a Consultant Paediatric Urologist at The Royal Children's Hospital, Melbourne. He is Professor of Pediatric Surgery.
His rooms (Paediatric Urology Victoria) are located 48, Flemington Road, Parkville, in an adjacent building to the Royal Children's Hospital.
He is Fellow of the Royal Australasia College of Surgeons and member of the board of the Asian Pacific Association of Pediatric Urology. He is the Medical Director of the Pediatric Integrated Cancer Services (PICS- Victoria).
He is mainly involved in the management of urinary (bladder exstrophy, neurogenic bladder, posterior urethral valve etc.,) and genital malformations (hypospadias, undescended testis).  He is the leader in uro-genital tumour surgery (Wilms, neuroblastomas).
He is a co-author of more than one hundred and twenty referenced papers with a special interest in key hole surgery and oncology.