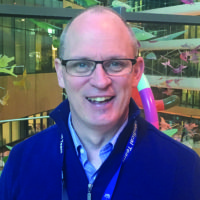 Mike O'Brien was born and raised in West Cork in Ireland. He went to medical school at University College Cork, graduating in 1989. He completed his adult general surgical training in Cork before starting a PhD.
He then moved to the UK for training in Paediatric Surgery working at Great Ormond Street and Hammersmith Hospitals in London, University Hospital of Wales in Cardiff, Bristol Children's Hospital and Birmingham Children's Hospital.
He also spent a year in Melbourne at The Royal Children's Hospital (RCH). He returned to the UK and worked for a time as a Consultant Paediatric Urologist in Birmingham but the lure of Melbourne was too strong.
He has been a Consultant Paediatric Urologist at RCH since 2005, and Head of Department of Urology since 2009. In 2013 he became Chief of Surgery at RCH.
All practitioners at Paediatric Urology Victoria are independent practitioners and not employees of the Practice.